This are Sgt. Charles Frank McGowen and PFC. Raymond George Witzig. This two fine men were killed in action on May 6, 1968. 36 years ago Delta Company 4th / 12th was air lifted to FBS Stephanie and we went out on a company size patrol. We encountered a large enemy force of NVA and Viet Cong soldiers. At approximatly 9:30 am We lost Sgt. McGowen as he threw a gernade into a revine he was mortaly wounded. We stayed in contact with the enemy throught the morning and at aproximately11:00 am Pfc Raymond Witzig was mortaly wounded and as Doc Cooley moved to assist him Doc Cooley was also Mortaly wounded. Myself and countless others from Delta Company remember this men to this day and wonder of the what ifs.
On May 2002 after my wife and I left the Redcatcher reunion inDC we flew to Chicago and 2 days later we drove to Gridley Ill.and met Raymond's Family. They were very gracious and kind to us.They wanted to hear about Raymond and his friends in Vietnam. We spent 3 days with the family and met Raymond's's mother and 4 sisters, also countless nephews and nieces and school friends.This meeting has been one of the greatest expierences of my life. I feel a part of this family and they gave me the impression that they felt the same.
In April 2003 we took an 8 state trip and had a Delta 4/12 reunionin San Antonio with Ricky Jones, Doc Ram Chavez, Bob Fromme, and Efrin Martinez. After the reunion we drove and toured Texas, New Mexico, Colorado, Utah and Nevada.While in Boulder Colorado we stoped and visited SGT. McGowen's resting place and met his Mother, brother and sister, and their families. The family was as pleasent as the Witzigs and this was the other great expierence of my life.
AMIGOS REST IN PEACE AND SAVE A SPOT FOR ALL REDCATCHERS NEXT TO YOU.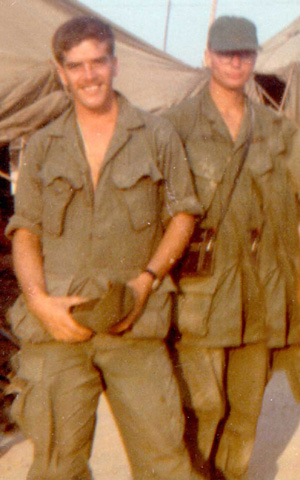 Eulogy For a Veteran
DO NOT STAND AT MY GRAVE AND WEEP. I AM NOT THERE. I DO NOT SLEEP
I AM A THOUSAND WINDS THAT BLOW. I AM THE DIAMAND GLINTTS ON SNOW.
I AM THE SUNLIGHT ON RIPENED GRAIN. I AM THE GENTLE AUTUMN RAIN.
WHEN YOU AWAKEN IN THE MORNINGS HUSH, I AM THE SWIFT UPLIFTING RUSH OF QUIET BIRDS IN CIRCLED FLIGHT,I AM THE SOFT STARS THAT SHINE AT NIGHT.
DO NOT STAND AT MY GRAVE AND CRY, I AM NOT THERE I DID NOT DIE.
AUTHOR UNKNOWN